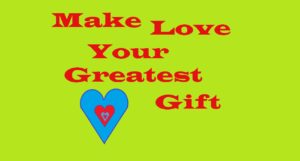 Make Love Your Greatest Gift. ( Word On Wheels )
There are so many different personalities in the world, there are happy people and people with bubbly personalities. There are also sad and sadistic personalities, angry people and violent people. People who are generous and supportive, as well as those who have psychotic personality disorders. And many in between. You may even know someone with one of these personalities. You may have one within your own family. With all peoples we have to interact with people of different characteristics.
Isaiah 1:18
 "Come now, and let us reason together," Says the Lord,
 The problem is not all people have the ability to "reason" They physically do not have the ability to reason or be rational about what has been said or done.
 Some people like to be around people while others like to be by themselves,
 God calls us to come to him and reason together with him. To admit what has been said and done and to logically work out what has happened and what has been said, and how to deal with the real life situation.
 
Isaiah 1:15-20
15 When you spread out your hands, I will hide My eyes from you; Even though you make many prayers, I will not hear. Your hands are full of blood.
16  "Wash yourselves, make yourselves clean; Put away the evil of your doings from before My eyes. Cease to do evil,
17  Learn to do good; Seek justice, Rebuke the oppressor; Defend the fatherless, Plead for the widow.
18  "Come now, and let us reason together," Says the Lord, "Though your sins are like scarlet, They shall be as white as snow; Though they are red like crimson, They shall be as wool.
19  If you are willing and obedient, You shall eat the good of the land;
20  But if you refuse and rebel, You shall be devoured by the sword"; For the mouth of the Lord has spoken.
Here at Word On Wheels through the grace of God
we desire to share The Message Of Love To You. And to care and support and express encouragement to one another. To support those who are feeling down and forgotten, to encourage them to be all that they can be. To open the potential in each of them. To let them know that they are not just a statistics, but they are loved very much and cared for, and to show them that they are someone who is very special person. Someone who is cared for very much, even if they don't think they are. As a husband loves his wife and would give his life for her, Just as the heavenly father Loves the world and gave his son for it. So in likewise manner may we share with those who are outside that they truly are greatly much loved and the desire to share with them the potential for them to have life and to live it to the abundance and have a full life.
Through the grace of God to empoweringpeople to look beyond their limitations and situations to achieve great and wonderful things in their lives.
To enable them to do all things through the power name of our lord and saviour who strengthens them and provides them with the means to earn a living . 
If you have the desire to share and show the love of the father to others, if you have the passion to help and assist others in their walk in life. Not to exert your own will and desires or ego's. But to hear and listen to the stories of others, and to understand and live within another's culture.  To step outside your own comfort zone and to experience new cultures and new environments and to share their struggles. Then we would like to hear from you.
Luke 4:18-19

 
"The Spirit of the Lord is upon Me,
Because He has anointed Me to preach the gospel to the poor; He has sent Me to heal the brokenhearted, To proclaim liberty to the captives. And recovery of sight to the blind, To set at liberty those who are oppressed; To proclaim the acceptable year of the Lord."
Gods Blessings Be Upon You.
James 1:19 – 21
Wherefore, my beloved brethren, let every man be swift to hear, slow to speak, slow to wrath: For the wrath of man worketh not the righteousness of God. Wherefore lay apart all filthiness and superfluity of naughtiness, and receive with meekness the engrafted word, which is able to save your souls.
Galatians 5:15  But if ye bite and devour one another, take heed that ye be not consumed one of another.
Let us all take self examination and evaluation of our words and actions, let us all be honest and truthful with one another so that we can truly "REASON" with one another.
Let us be able to put our own shame and pride and arrogance and shyness and all our baggage and pre conceived ideas about everything and let us just be.
Let us learn "NOT" to react and respond to situations and events and happenings in and around our lives. Let us begin to "REASON" with one another.
LET US be able to "GIVE" instead of "TAKE", let us be able to "EMPATHISE" instead of "APATHY". Let us look for needs of "OTHERS" instead of serving our own "SELF EAGO".
Make Love Your Greatest Gift to others. Share your Love and not your Judgements.
Share Love, mercy, grace, forgiveness, compassion, empathy, helping, respect, care, kindness, meekness, self control, joy, happiness, peace, long suffering, goodness, faithfulness, gentleness, self control.
WHAT WILL YOU BE REMEMBERED FOR ?
NOT WHAT YOU THINK YOU SHOULD BE KNOWN FOR ! !
You think – Im a great provider.
They think – You were never there for us.
You think – Im a person of faith and trust in God.
They think –  You were more interested in what others thought of you.
You think –  I was good at organizing things and time management.
They think – You were always very angry and hated people and extremely bossy and always telling people off.
You think – I am adventurous.
They think –  You are very shy and intraverted around outsiders.
What you think and view yourself may not necessary always be what you portray or what others see in you. It may be infact quite the very opposite of what you may think.
Do not have within your members, anger, adultery, fornication, uncleanness, lewdness, idolatry, sorcery, hatred, contentions, jealousies, outbursts of wrath, selfish ambitions, dissensions, heresies, envy, murders, drunkenness, revelries, lies, slander, false accusations, threats and the like.
Let your light shine forth in darkness that they may see your good deeds, let not the powers of darkness have victory ovr you may mthat they may see your good deeds and gloify our father in heaven.
Let Everything be done in love.
As our lord once said in Matthew 23:37  O Jerusalem, Jerusalem, thou that killest the prophets, and stonest them which are sent unto thee, how often would I have gathered thy children together, even as a hen gathereth her chickens under her wings, and ye would not!
Let's learn to love truth and doing good, being honest and helping others, and doing what is right. 
John 15:11-13
"These things I have spoken to you, that My joy may remain in you, and that your joy may be full. This is My commandment, that you love one another as I have loved you. Greater love has no one than this, than to lay down one's life for his friends.
John 10:10
I have come that they may have life, and that they may have it more abundantly.
Isaiah 52:7
How beautiful upon the mountains Are the feet of him who brings good news, Who proclaims peace, Who brings glad tidings of good things, Who proclaims salvation, Who says to Zion, "Your God reigns!"
Romans 10:14-15
How then shall they call on Him in whom they have not believed? And how shall they believe in Him of whom they have not heard? And how shall they hear without a preacher?  And how shall they preach unless they are sent? As it is written: "How beautiful are the feet of those who preach the gospel of peace, Who bring glad tidings of good things!"
Isaiah 6:8
8 Also I heard the voice of the Lord, saying: "Whom shall I send, And who will go for Us?" Then I said, "Here am I! Send me."
1 Peter 4:8
And above all things have fervent love for one another, for "love will cover a multitude of sins
Aspiration Day Sunday 18 March 2018
Oh Gracious God, we ask for a wonderful amazing miracle to happen in our lives so all can see that you are a wonderful loving caring God and that we may praise you and glorify your holy wonderful name.
Ezekiel 3
18  When I say to the wicked, 'You shall surely die,' and you give him no warning, nor speak to warn the wicked from his wicked way, to save his life, that same wicked man shall die in his iniquity; but his blood I will require at your hand.
19  Yet, if you warn the wicked, and he does not turn from his wickedness, nor from his wicked way, he shall die in his iniquity; but you have delivered your soul.
20  "Again, when a righteous man turns from his righteousness and commits iniquity, and I lay a stumbling block before him, he shall die; because you did not give him warning, he shall die in his sin, and his righteousness which he has done shall not be remembered; but his blood I will require at your hand.
21  Nevertheless if you warn the righteous man that the righteous should not sin, and he does not sin, he shall surely live because he took warning; also you will have delivered your soul."
Website To Be Updated
Stay tune, in just a few short months our website will go under a complete overhawl, more interactive, more user friendly, more features, more information.
Memberships with information updated, more resources,  and where members can share and interact, and even post blogs.
Information about our missionary adventures, what our teams in India and Papua New Guinea are doing. And what is happening and future plans for both India and Papua New Guinea.
At the moment we are operating on a shoe string budget, but we trust in God will provide what is needed when it is needed.
We would like to take this opportunity to first of all thank God and all whos hearts and minds have been moved to help make the dreams and goals of Word On Wheels a reality in both India and Papua New Guinea. Those who are working and serving both in front and behind the scene.
We ask and pray and thank God for the continual growth of the missionary impact for the Word On Wheels missionary impacting lives and helping assist people meeting the needs of many, and bringing the people the message of Gods love for them, in many towns and villages.
Our prays and ask for prays for strengthening marriages and families, as well as for the following points.
That more people will come to know and accept and follow the love of God and their lord and saviour through the message from Word On wheels.
Gods protection and provisions for those needs of Word On Wheels,  and for those who they are serving.
That God will bring more true and faithful followers of God to join Word On Wheels to help make a positive impact and help serve people in more communities and share the gospel with more people.
To unite and strengthen families and marriages.
To reduce pain and suffering of the most vulnerable and disadvantaged within different communities.
To build bridges between towns and villagers and families.
Help fund community orphanages.
Formulate educational facilities and ethics education.
Water capture and storage.
Assisting in providing scholarships.
Provide means for the less fortunate to form a micro business to help fund and provide for their family basic needs.
Tourism.
That marriages be united and be the place of love, safety,  unity, support and protection, that marriages and families be the strength and backbone of happier and healthier communities.
Neighbourhood villages communities unity.
And much much more.
Please keep us and these things in your prays.
Ephesians 5
20 giving thanks always for all things to God the Father in the name of our Lord Jesus Christ,
21 submitting to one another in the fear of God.
22 Wives, submit to your own husbands, as to the Lord. 
23 For the husband is head of the wife, as also Christ is head of the church; and He is the Savior of the body. 
24 Therefore, just as the church is subject to Christ, so let the wives be to their own husbands in everything.
25 Husbands, love your wives, just as Christ also loved the church and gave Himself for her, 
26 that He might sanctify and cleanse her with the washing of water by the word, 
27 that He might present her to Himself a glorious church, not having spot or wrinkle or any such thing, but that she should be holy and without blemish. 
28 So husbands ought to love their own wives as their own bodies; he who loves his wife loves himself. 
29 For no one ever hated his own flesh, but nourishes and cherishes it, just as the Lord does the church. 
30 For we are members of His body, of His flesh and of His bones. 
31 "For this reason a man shall leave his father and mother and be joined to his wife, and the two shall become one flesh."
32 This is a great mystery, but I speak concerning Christ and the church. 
33 Nevertheless let each one of you in particular so love his own wife as himself, and let the wife see that she respects her husband.
Glory To God, The God Of Unity Within Marriages.
Genesis 2
24
Therefore shall a man leave his father and his mother, and shall cleave unto his wife: and they shall be one flesh.
Please be patient with us as we are undergoing a site update, Some functions may temporally not work correctly during the update process.
We thank you for your patience as we try to make this interruption as minimal as possible while we try and make this site more user friendly and interactive.
God Bless
1 Corinthians 2:2
2 For I determined not to know any thing among you, save Jesus Christ, and him crucified.
Namba wan pas Pol i raitim long Ol Korin
Sapta 2
2 Mi bin ting olsem, taim mi stap namel long yupela, mi no ken tingting long narapela samting. Nogat. Mi mas tingting long Jisas Krais tasol. Yes, long Jisas Krais i bin I dai long diwai kros.